I like to share. So when I am asked to recommend books and what nots, I do. This is my collection of products and books that I enjoy. Please know that most of these are affiliate links and I receive a small commission if you choose to purchase. I really appreciate it when you buy through my links. See HTHL's full disclosure.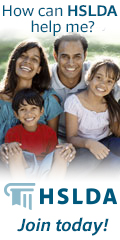 Put this at the top of your homeschool supply list!
Home School Legal Defense Association has been invaluable to our family. (HSLDA) is a nonprofit advocacy organization established to defend and advance the constitutional right of parents to direct the upbringing and education of their children and to protect family freedoms.